ON-SET TEES AND SLEEVES
PRODUCER LONGSLEEVE

STAFF LONGSLEEVE

CREATIVE DIRECTOR LONGSLEEVE
CULTURE.
FILIPINO PRIDE WINDBRKR

D.H.M.G WINDBRKR
D.C: "ORIGINAL"
While we are in the midst of re-branding the site and merch, please use the discount code above for the warehouse sale! New and very fun merch coming soon. Youth streetwear will be added to the mix.
XOXO.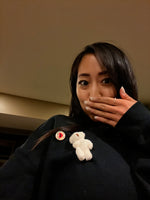 Designer/Artist/Friend.
Welcome to my brand page, MISKOFITS. It has been such a cool journey designing my merch and also growing as an artist through this journey. I use this outlet as a means of creative expression and also have had the pleasure to design merch for other artists.
Currently working on a new ep alongside with brand new merch.
This cute bear on my crewneck is actually my first ever hand made design. Thanks for being here and please enjoy the warehouse sale!
For artist merch inquiry please email:
MISKOMUSIC2.0@GMAIL.COM
SUBJECT: ARTIST MERCH
AS SEEN ON THREADS
ORIGINAL CONTENT BL TEE

STAY CLA$$Y WH TEE